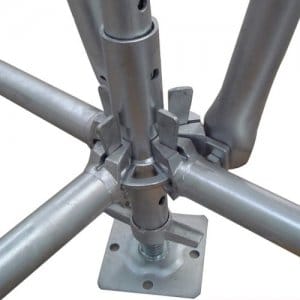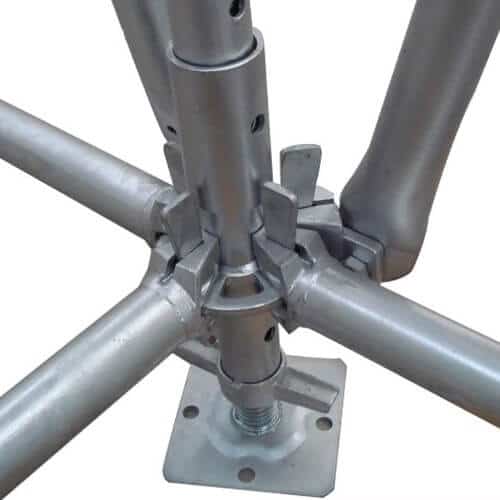 Ringlock
Total Contec's ringlock is also called ringlock scaffolding, one of the system scaffolding,or modular scaffolding.
It is widely used in the construction industry, such as building, bridge, viaduct, petrochemical, etc. It supports to access work and platform as a temporary structure in building construction and also plays a heavy load duty in many kinds of project.
Compared to tube and clamps, it installs without any screw bolts and nuts, only with wedge lock connections, so that is very easy to assemble and disassemble.
The ringlock scaffolding mainly consists of standard or vertical, ledger, diagonal brace, and components such as base collar, head jack, base jack.
It can be simple and convenient to meet most requirements of temporary structure and access assisted with steel plank and kinds of bracket.
Total Contec has supplied the product to many famous companies of scaffolding and access industries. Our products' quality has been verified by customers and time.

Ringlock Standard
Tube diameter: 48.3mm, thickness: 3.2mm, Steel Grade: Q345, Surface treatment: Hot dip galvanized
Product
Length
Code
Description
Inches
Meters
RLS500
1 Ring standard w/spigot
19.69
0.5
RLS1000
2 Ring standard w/spigot
39.37
1.0
RLS1500
3 Ring standard w/spigot
59.06
1.5
RLS2000
4 Ring standard w/spigot
78.74
2.0
RLS2500
5 Ring standard w/spigot
98.43
2.5
RLS3000
6 Ring standard w/spigot
118.11
3.0


Ringlock Ledger
Tube diameter: 48.3mm, thickness: 3.2mm, Steel Grade: Q345, Surface treatment: Hot dip galvanized
Product
Length
code
description
Inches
Meters
RLL073
2′-4″ Ledger
28.82
0.73
RLL1090
3′-6″ Ledger
42.83
1.09
RLL1290
4′-3″ Ledger
50.63
1.29
RLL1570
5′-2″ Ledger
61.88
1.57
RLL2070
6′-9″ Ledger
81.5
2.07
RLL2570
8′-6″ Ledger
101.3
2.57
RLL3070
10′-1″ Ledger
121
3.07


Ringlock Diagonal Brace
Tube diameter: 48.3mm, thickness: 2.5mm, Steel Grade: Q235, Surface treatment: Hot dip galvanized
Product
Width
Length
Code
Description
Inches
Meters
Inches
Meters
RLDB2120
2′-4″ Diagonal Brace
28.82
0.73
78.74
2
RLDB2250
3′-6″ Diagonal Brace
42.83
1.09
78.74
2
RLDB2350
4′-3″ Diagonal Brace
50.63
1.29
78.74
2
RLDB2490
5′-2″ Diagonal Brace
61.88
1.57
78.74
2
RLDB2810
6′-9″ Diagonal Brace
81.5
2.07
78.74
2
RLDB3180
8′-6″ Diagonal Brace
101.3
2.57
78.74
2
RLDB3580
10′-1″ Diagonal Brace
121
3.07
78.74
2


Ringlock Bridge Ledger
Tube diameter: 48.3mm, thickness: 3.2mm, Steel Grade: Q235, Surface treatment: Hot dip galvanized
Product
Length
code
description
Inches
Meters
RLBL1570
5′-2″ Bridge Ledger
61.88
1.57
RLBL2070
6′-9″ Bridge Ledger
81.5
2.07
RLBL2570
8′-6″ Bridge Ledger
101.3
2.57
RLBL3070
10′-1″ Bridge Ledger
121
3.07


Ringlock Lattice Ggirder
Tube diameter: 48.3mm, thickness: 3.2mm, Steel Grade: Q235, Surface treatment: Hot dip galvanized
Product
Length
code
description
Inches
Meters
RLLG1570
5′-2″ Lattice Girder
61.88
1.57
RLLG2070
6′-9″ Lattice Girder
81.5
2.07
RLLG2570
8′-6″ Lattice Girder
101.3
2.57
RLLG3070
10′-1″ Lattice Girder
121
3.07
RLLG4140
13′-7″ Lattice Girder
163
4.14
RLLG5140
16′-10″ Lattice Girder
202.4
5.14
RLLG5141
20′-2″ Lattice Girder
242
6.14
RLLG5142
25′-3″ Lattice Girder
303.5
7.71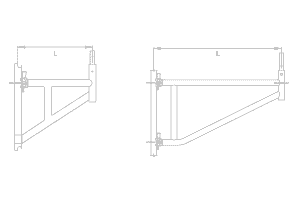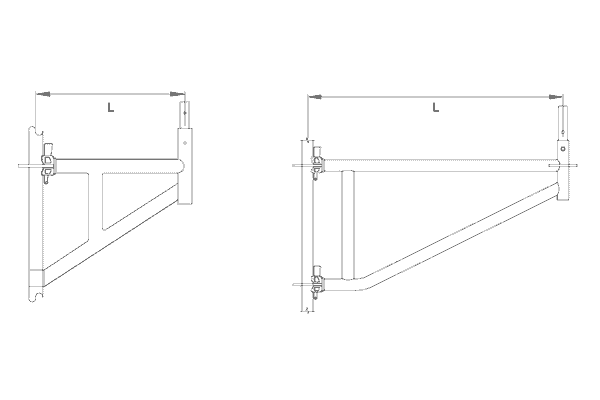 Ringlock Board Bracket
Tube diameter: 48.3mm, thickness: 3.2mm, Steel Grade: Q235, Surface treatment: Hot dip galvanized
Product
Length
code
description
Inches
Meters
RLBB360
1′-2″ Board Bracket
14.17
0.36
RLBB390
1′-3″ Board Bracket
15.35
0.39
RLBB730
2′-4″ Board Bracket
28.82
0.73
RLBB1090
3′-6″ Board Bracket
42.83
1.09


Ringlock Base Collar
Tube size: 48.3×3.2mm & 57×2.5mm. Surface treatment: Hot dip galvanized
Product
Length
code
description
Inches
Meters
RLBC200
Base Collar
7.87
0.2


Product
Length
code
description
Inches
Meters
RLCA300
Caster Adapter
12.13
0.3
Video of mechanical arm and welding process