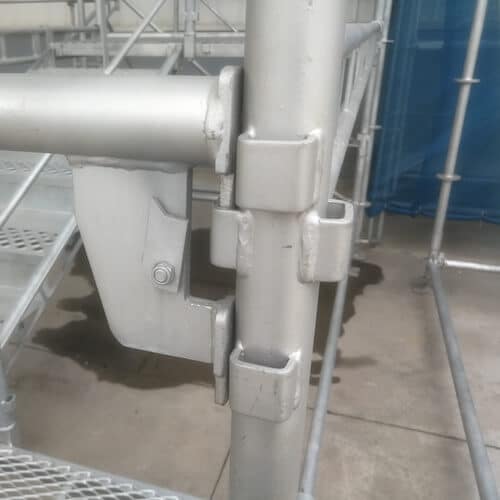 Haki
Total Contec is a leading Haky scaffolding manufacturer &supplier in China.
Haky Scaffold has fewer components compared to other systems thereby reducing the amount of equipment required to erect,dismantle and transport.
Haky Scaffold is built to last so depreciation and financing can be calculated over much longer periods.

Haki Standard
Tube diameter: 48mm, Steel Grade: Q235, Surface treatment: Hot dip galvanized
| | |
| --- | --- |
| Code | Length |
| HSS1500 | 1500mm |
| HSS2000 | 2000mm |
| HSS3000 | 3000mm |

Haki Ledger
Tube diameter: 34mm, Steel Grade: Q235, Surface treatment: Hot dip galvanized
| | |
| --- | --- |
| Code | Length |
| HSL300 | 3000mm |

Haki Single Tube Beam
Tube diameter: 48.3mm, thickness: 3mm, Steel Grade: Q235, Surface treatment: Powder Coated
| | |
| --- | --- |
| Code | Length |
| HSSTB160 | 1605mm |

Haki Guardrail Frame
Tube diameter: 34mm, Steel Grade: Q235, Surface treatment: Hot dip galvanized
| | |
| --- | --- |
| Code | Length |
| HSGF210 | 2100mm |
| HSGF300 | 3000mm |
HAKI Scaffolding – The Ultimate FAQ Guide
Out of all the many different classifications of scaffolding in the market, HAKI scaffolding stands as one of the rarest and most unique. New and beginner businesses in the industry would 100% be unaware of what HAKI scaffolding is – but along with that, this could actually be what they're looking for.
So, in this FAQ guide, we will be discussing what HAKI scaffolding is, how it's erected and built, what are its pros and cons, its applications, and many more!
What is HAKI Scaffolding?
HAKI Scaffolding is a type of universal modular, proprietary scaffolding that utilizes a locking-catch method of erection. Commonly known as a "hook-on" type of functionality, it can be used for a wide array of business sectors and industries.
It was developed in order to provide workers and personnel with the safest and most secure type of environment.
NOTE: HAKI is both a name of a manufacturer and a generic type of scaffolding system.
What is a Proprietary Scaffolding?
Proprietary scaffolding systems are systems are independent scaffolds that are used to determine or describe scaffolding structures that have unique points of connection. These scaffolding structures usually rely on similar concepts of the following:
Horizontal Members (Ledgers)
Vertical Members (Standards)
Diagonal Members
Decking or Platforms
Types of HAKI Scaffolding
There are different types and classifications of HAKI scaffolding in the construction industry. Most construction and scaffolding companies, though, use the following:
HAKI Bridge System (HBS)
This type of HAKI scaffolding is known for its property of reducing the time for installation because temporary bridges are already installed. What's good about this is the fact that it's safer, more secure, and it won't take hours to set up with all the given material and infrastructure.
HAKI Public Access Stair (PAS)
The HAKI Public Access Stair, more commonly known as PAS is a pre-fabricated staircase that's used for various scaffolding works and structures. Don't worry, though, the PAS strongly complies to building regulations that ensures the safety and security of workers and personnel who would be manning the scaffolding structure.
HAKI Universal
This is the generic type of HAKI scaffolding that makes use of a hook-on method for various applications. It's used for different projects and can even be used for the erection and establishment of a different scaffolding system.
HAKI Staircase or Stair Tower
Lastly, the HAKI Stair Tower is a type of HAKI Scaffolding that can be used as a primary scaffolding structure or additional components for one.
These are the different forms of HAKI scaffolding you'll encounter in the market, so, don't be confused when you encounter them!
What is a HAKI Staircase?
A HAKI staircase is one of the few categories of HAKI scaffolding. Also known as the HAKI Stair Tower, it features a stair tower that can be used and attached to a building that's being worked on.
In addition to that, the loading class is 4KN/m2, it has exceptional safety and security functionalities, and it can be used for temporary access in order to reach certain heights of a scaffolding tower or a scaffolding structure.
How Wide is a HAKI Public Access Stair?
The HAKI PAS or the Public Access Stairs can be made and erected with widths ranging from 1655mm & 1964mm to 2500mm and widths that range from 1655mm to 2500mm. For the HAKI PAS, various components can be used, but the most common are Single Tube Beams or Ledger Beams (used for both ledgers and transoms).
HAKI Tower
A Haki tower (Stair Tower) is a type of scaffolding that makes use of standards, beams, diagonal braces, guardrails, and platforms. They're typically used to reach certain heights.
How Do You Erect HAKI Scaffolding?
The process or method of assembling or erecting a HAKI scaffolding system is slightly different from how traditional scaffolding is done. Don't worry, here's a quick step-by-step guide on how that's done!
Step #1: Set the Erection Brace
The first step is to set the erection base on the ground to make sure that it will be assembled precisely and accurately. You want to make sure that the measurements are exact in order to arrive at higher and better-quality results.
Step #2: Transport the Brace to the Scaffold Location
Once done, it's now time to bring the erected brace to the scaffolding location where it's going to be suspended.
NOTE: Before going onto the next step, a "safe zone" must be created and that's done by attaching a guard frame to the erected brace.
Step #3: Install a Double Rider and Guard Frame
Then, using the safe zone, install a double rider and a guard frame for edge protection. This is what most traditional scaffolding systems lack.
Step #4: Attach the Board Bracket to the Beam Rider
Next would be to attach the board bracket to the beam rider. This step also involves the insertion of sprint pins to the puncheon unit in order to appropriately suspend the scaffold safely and securely.
NOTE: Before going to step 5, it's advised to go down at least 2 meters.
Step #5: Use a Standard and Hook-On
Then, using a regular standard, hook it onto the bracket. This will then be pushed at the outside part of the area and lift it to the guard frame.
Step #6: Release the Edge Guard-Frame  
By now, your suspended scaffolding should be tight, stable, and secure. If it is not, recheck everything from the beam riders, the brackets, and even the standards to see where the problem is.
That is how you properly erect a suspended HAKI scaffolding structure. For the benefit of the supported scaffolding system, though, it's literally the same. You assemble the base, then you take and use a ledger, then a standard until you fully erect it.
NOTE: As you can see, the terms and names of the components are different, and that is because HAKI universal capitalized on the skill and expertise they have – they made their own!
Nevertheless, they aren't different from the components you see in a scaffolding system – don't be confused!
HAKI Scaffolding Components
For you not to be naïve when you are dealing with HAKI scaffolding, we've listed down the different parts and components you will usually see in a HAKI scaffolding system. So, here they are!
Base Jack
This is the foundation or the base component of a HAKI scaffolding system. Without the base jack, a HAKI scaffolding system wouldn't be put in place.
Ledger Beam
The ledger beam or commonly known as "ledger," is the horizontal beam that connects two (2) vertical beams (standards) together.
Single Ledger
The single ledger adds extra support to the structure by connecting adjacent standards together. It's a single beam that is typically used on all levels of a HAKI scaffolding system.
Entrance Step
This is the entrance or the first thing that's assembled in a HAKI scaffolding system. It serves as an entry point for people who are going to enter and access the scaffold.
Safety Gate
Safety gates are security components that are assembled at the bottom of the stair flight or staircase of the HAKI scaffold.
Standard
These are the vertical components or vertical ledgers of a HAKI scaffold. They're considered as one of the most essential parts of any scaffolding system. Without standards, then a scaffold can't go as high as 40m above!
Handrail Post
These are the posts that hold the handrails of the staircase. They also somehow add support to the attachment of the staircase to the overall scaffolding structure.
Stair Flight/Staircase
The access or the stairs that are used for the purpose of going up or down the scaffold.
Toe Board
Lastly, toe boards. These are the boards that are positioned at the edge of platforms or catwalks in a HAKI scaffold. Their purpose is to protect the toe or the foot of the workers in case components fall down from the building.
NOTE: These aren't everything. There'll be instances where you'll encounter other terms such as locking pins, tripods, double riders, guardrail frames, post wedges, and many more! The ones we discussed are just the typical components of a general HAKI scaffolding structure.
What is Kwikstage Scaffolding?
Kwikstage scaffolding is a type of modular scaffolding system where there's wedge fixing for all the scaffold requirements. That being said, it utilizes a tube and fitting method in order to achieve the structure required.
HAKI vs. Cuplock Scaffolding
A lot of people grow confused about determining whether a HAKI scaffolding system is similar to cuplock. When, in reality, it is not. In fact, a HAKI scaffolding system is far and very different from what a cuplock scaffolding system is.
Based on what we know, HAKI scaffolding systems are hook-on systems and are typically used for the purpose of building a suspended or a supported scaffold.  They're lightweight, and they're labelled as one of the more simplistic and contemporary types of scaffolding systems.
Cuplock, on the other hand, is a scaffolding system that's equipped with cuplocks or cup-like components that serve as some type of locking tool.
They're not under the same type of scaffolding system, so, don't confuse yourself!
Which HAKI Scaffolding Manufacturer Should You Trust?
Total Contec has been providing the safest and best quality of HAKI scaffolding for 12+ years now. In and around China, we have reviewed all our clients' prospects and not once did we fail to go over the manufacturing standard.
With Total Contec, we can guarantee you to save more or less 50% of the total labor costs than traditional or classic scaffolding systems. And that is what we're very much known for!
Whether you're aiming for simpler and more basic construction or if you want to make sure that all workers and personnel are going to be kept safe, Total Contec's HAKI scaffolding is the way to go.
Other than our HAKI scaffolding expertise, you can also bank and rely on us should you need aluminium scaffolds like trusses, planks, stages, and ladders, modular scaffold, and even construction tools and safety tools, too!
Don't hesitate to reach out to us for all the HAKI scaffolding needs and requirements you might have! Shoot us an email, dial our hotline, or find any of our sales representatives!