Frame scaffolding
Total Contec's frame scaffolding belongs to system scaffolding. The frame and cross brace are the main components, so it is named after its shape.
This kind of modular scaffolding may be the most commonly used in construction industry.
In building construction, decoration, and maintenance projects, we can find that the frame scaffolding with plank, transom, and guardrail is a significant choice among steel facade scaffolding systems.
There are three kinds of frame scaffolding in our experience along with our customers, such as American Frame, Euro Frame, and Japanese Frame. There are other specific names of frame scaffolding in this industry, like baker scaffolding that is actually narrow frame scaffolding, if you add caster on it, you can move it easily, known as portable scaffolding or rolling scaffolding in some areas.
Following, we list some common data of frame scaffolding. The frame is made in a wide variety of sizes and configurations, and we can meet customer's requirements in width, height, OD, thickness, etc. Meanwhile, we also supply the steel and aluminum plank, casters to satisfy customer's applications.
American Frame Scaffolding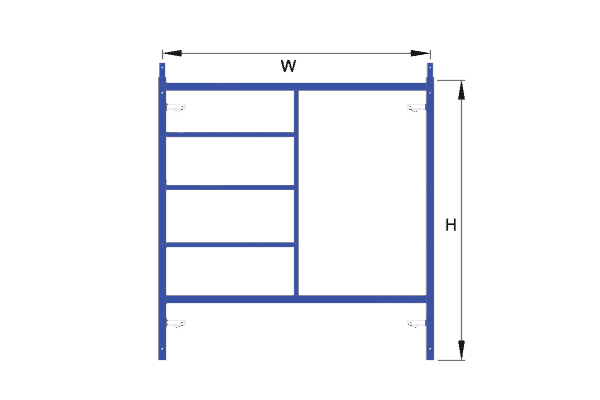 Step Frame
Step Frame, also called Mason Frame
Leg Tube: OD41.2mm, Surface treatment: Powder Coated
Product
Width
Height
Code
Description
Inches
Meters
Inches
Meters
AFSF01
5'*3′ Step Frame
60
1.524
36
0.914
AFSF02
5'*4′ Step Frame
60
1.524
48
1.219
AFSF03
5'*5′ Step Frame
60
1.524
60
1.524
AFSF04
5'*6'4″ Step Frame
60
1.524
76
1.93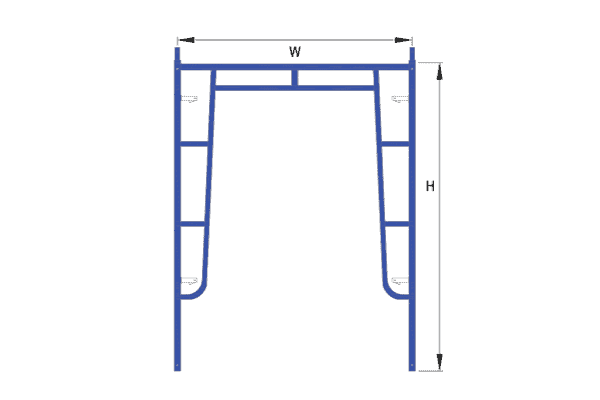 Walk Through Frame
Leg Tube: OD41.2mm, Surface treatment: Powder Coated
Product
Width
Height
Code
Description
Inches
Meters
Inches
Meters
AFWTF01
4'*5'7″ Walk Through Frame
48
1.219
67
1.702
AFWTF02
4'*6'4″ Walk Through Frame
48
1.219
76
1.93
AFWTF03
5'*4′ Walk Through Frame
60
1.524
48
1219
AFWTF04
5'*6'4″ Walk Through Frame
60
1.524
76
1.93
AFWTF05
5'*6'7″ Walk Through Frame
60
1.524
79
2.007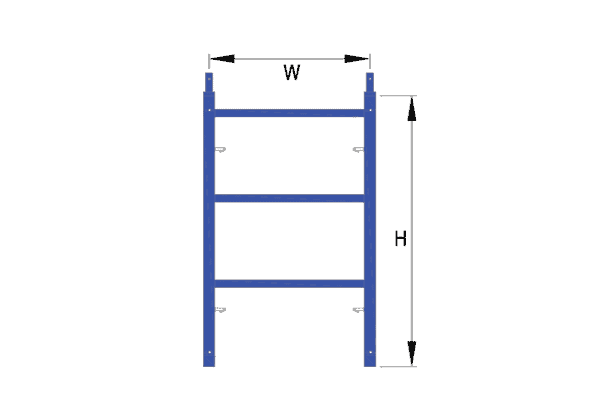 Ladder Frame
Leg Tube: OD41.2mm, Surface treatment: Powder Coated
Product
Width
Height
Code
Description
Inches
Meters
Inches
Meters
AFLF01
2'*5′ Ladder Frame
24
0.61
60
1.524
AFLF02
2'*6'4″ Ladder Frame
24
0.61
76
1.93
AFLF03
3'*4′ Ladder Frame
36
0.914
48
1219
AFLF04
3'*5′ Ladder Frame
36
0.914
60
1.524
AFLF05
3'*6′ Ladder Frame
36
0.914
72
1.829
Japanese Frame Scaffolding

Japanese Frame – 01
Surface treatment: Hot-dip Galvanized
| | | |
| --- | --- | --- |
| Code | Width | Height |
| JF01 | 410mm | 1700mm |
| JF02 | 610mm | 1700mm |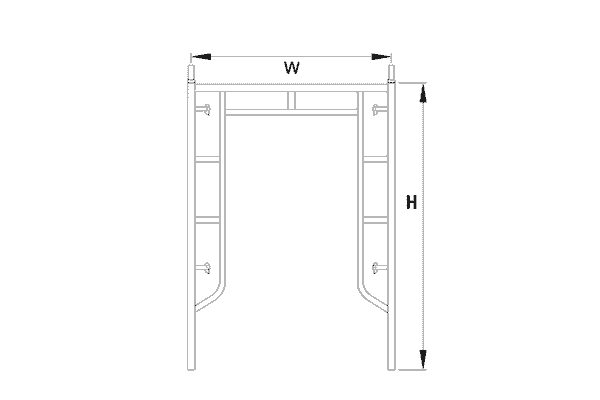 Japanese Frame – 02
Surface treatment: Hot-dip Galvanized
| | | |
| --- | --- | --- |
| Code | Width | Height |
| JF03 | 1219mm | 1524mm |
| JF04 | 1219mm | 1700mm |
| JF05 | 1219mm | 1930mm |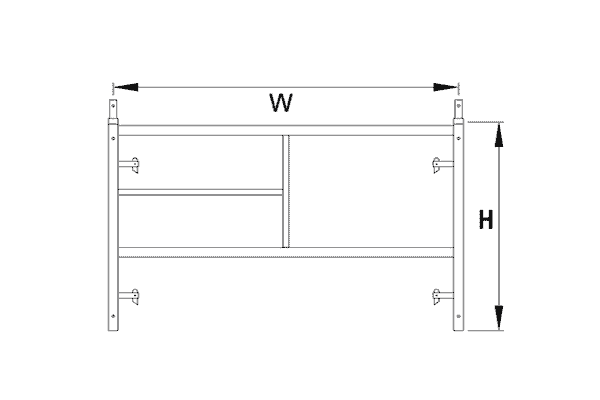 Japanese Frame – 03
Surface treatment: Hot-dip Galvanized
| | | |
| --- | --- | --- |
| Code | Width | Height |
| JF06 | 1219mm | 914mm |
| JF07 | 1219mm | 1219mm |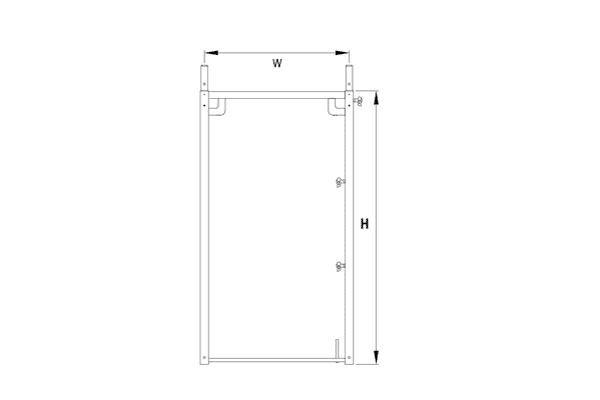 Euro Assembly Frame
Surface treatment: Hot-dip Galvanized
Product
Width
Length
Code
Description
Inches
Meters
Inches
Meters
EAF01
2'5″*3'3″ Step Frame
29
0.73
39
1
EAF02
2'5″*6'7″ Step Frame
29
0.73
79
2
 The details of frame scaffolding. Welding process and surface treatment.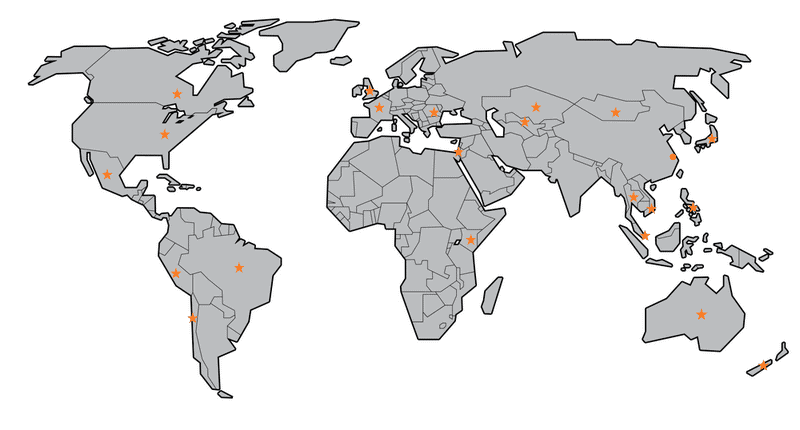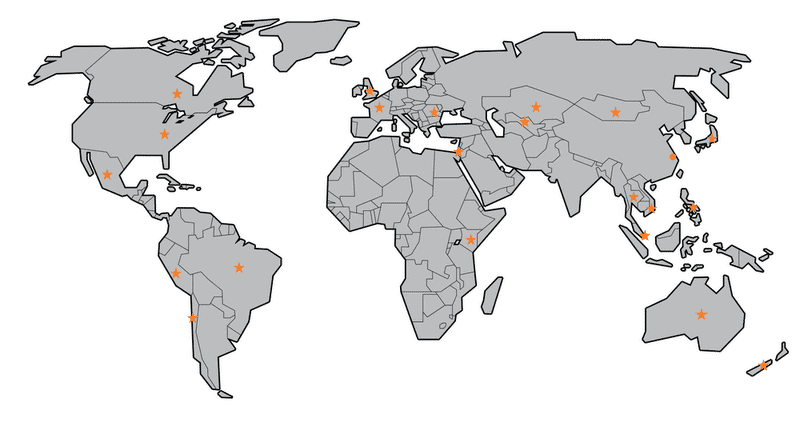 Total Contec Frame Scaffolding Video
FAQ About Frame Scaffolding
Frame scaffolding is one of the most popular and most-used types of scaffolding in the market. The reasons why vary, but that is what we'll be discussing in this guide.
Most construction and structural companies find frame scaffolding as effective, but there are some that think otherwise. In this guide, we will lay out all the details about frame scaffolding you'll need. We'll discuss everything to help you understand what it is, what its benefits and advantages are, its types, and more!
Understanding What a Frame Scaffolding System Is
Frame scaffolding one of the different types of modular scaffolding that's considered to be a more popular option compared to others. Typically used in the residential or commercial industry, frame scaffolding where metal tubes are crossed over one another in order to make the support necessary for the above structure.
NOTE: Commonly, frame scaffolding is only used for the construction or the building of one (1) to two (2) tiers or levels but can also be stacked a few levels higher than that (for larger-scale constructions).
These frames are pre-fabricated, so businesses don't need to do much when erecting or assembling one.
Pros and Advantages of Frame Scaffolding
Frame scaffolding has a ton of advantages and benefits. In fact, the most common ones are:
Economical and Budget-Saving
Frame scaffolding is economical because it is not that labor-intensive compared to many other modular scaffolding types and classifications. It can help businesses and companies to have a scaffolding structure swiftly, and more importantly, cheaply!
Fast and Easy Assembly and Disassembly
Another benefit of frame scaffolding would be the fact that it's easy and fast to both assemble and disassemble. Since all of its components are already pre-fabricated, there'll be no need to build (add) or remove (subtract) material from the components.
No Moving Parts
Frame scaffolding is also known for the fact that it does not have moving parts. The design is sturdy and reliable, and workers would not feel like the structure will fall out or fall off whenever they are up on the structure.
More Room For Maneuvering
The lengths and widths of the aluminum planks are also wide and big. It gives workers and personnel a lot of room for maneuvering and moving within the platform.
NOTE: Of course, just like any other type of scaffolding, the platforms or catwalks would have toe protectors, which serve as a protective covering of the foot, as well as help keep personnel and workers in the space.
Large Capacity
Last but most definitely not least is the fact that it can support loads that are up to 20 kilograms. The components are made from steel, which is a lot more durable, load-resistant, and versatile compared to other types of materials.
These are some of the most notable benefits and advantages of frame scaffolding. Now, let's go ahead and discuss some of its drawbacks and disadvantages!
Cons and Drawbacks of Frame Scaffolding
Apart from its benefits and advantages, using frame scaffolding also has its drawbacks. So, you'd want to consider the following drawbacks when dealing with frame scaffolding:
Height Limitations
The most bummer factor of all would be its height limitations. Unlike systems scaffolding, frame scaffolding is not meant to go up to 11 floors high. This is the reason why frame scaffolding is only used in situations like residential and commercial.
Load Limits
Next would be load limits. But wait, isn't frame scaffolding effective in holding up heavy loads? Yes, they are, but not as much as other types of scaffolding structures. Standard frame scaffolding systems can hold weight up to a maximum of 25 kg, whereas other types of scaffolding can hold up to 50, even more.
H-Frame vs. A-Frame Scaffolding
Do you know the differences between H-Frame and A-Frame scaffolding? Are you aware of what their distinctions are? Apart from their difference with their letters, how else are they different?
Now, kidding aside, H-Frame and A-Frame scaffolding are two (2) separate types of scaffolding. So, let's get right onto it!
H-Frame scaffolding, from the term alone, is a frame that takes up the "H" form. Their use typically lies on slab and other simple operations that require safety, security, and reliability. Commonly, they're used for renovation, outside building decoration, as well as exterior repair.
A-Frame scaffolding, on the other hand, is a type of frame scaffolding where its shape leans more towards the letter "A," than the "H." A-frame scaffolding is done and applied to jobs and projects that require the holding and withstanding of the heaviest and most crucial weights there are. It's also an excellent space-saver because unlike H-Frame scaffolding, A-Frame scaffolding doesn't take up too much space.
Frame Scaffolding Specifications
In finding the perfect frame scaffolding for your project, you need to be wary and aware of the specifications before proceeding to buying and purchasing it. Now, these specifications will vary from one project to another, but the most common specifications you want to take note of would be:
Shape – This refers to the overall form of the structure or the shape (H or A).
Material– Of course, this details the type of material used for the frame scaffolding.
Surface Type – This refers to the type of surface that the scaffolding has. It can be pointed, flat, or rounded.
Dimensions – Lastly, this is the measurement of the scaffolding structure you are going to rent or purchase.
Make sure that before you decide on the frame scaffolding you'll acquire, you know and you are aware of these specifications. These can make or break the project you are working on, so, beware!
What Are the Parts of Frame Scaffolding?
The components of frame scaffolding would not be far from the parts and components of typical modular and scaffolding systems. To help you, here are the components of a frame scaffolding system:
Standards or the vertical steel beams
Ledgers or the horizontal steel beams (can be 1 or 2-beamed ledgers)
Transoms or load-bearing support for planks
Scaffold tubes or the metal sections of the pipe that make up the scaffold
Toe boards or the cover that sits on the edge of the platform or the deck
Base plates or the foundation of a frame scaffolding system
Diagonal braces or the wedge that helps in locking the basic scaffolding structure
And many more!
NOTE: These are only general parts and components of a frame scaffolding structure. Most of the time, when you rent a frame scaffold, all these parts would already be conjoined and mashed up together so you don't have to worry about assembly any longer.
Comparing Frame Scaffolding From Tube and Clamp Scaffolding
Tubular scaffolding, more commonly known as tube and clamp scaffolding, is also one of the most popular types of scaffolding in the industry. If we put it side-by-side with frame scaffolding, though, how is it significant?
Now, let's discuss both the similarities and differences of tube and clamp scaffolding and frame scaffolding.
Erection and Dismantling
The erection and assembly of frame scaffolding is not as difficult and requiring as tube and clamp scaffolding. Workers and personnel don't need to be fully knowledgeable – they can assemble it easily and urgently!
Tube and clamp can take a bit longer to erect and dismantle since they have more parts and components compared to frame scaffolding.
Component Variability
Tube and clamp scaffolding is actually better in terms of flexibility because bits of components can be added into the formula – if it fits correctly. While that is the case, systems scaffolding or frame scaffolding systems can offer a wide array of components without the "extra bits," which make it easier, less maintaining, and overall more efficient.
Load Ratings
Tube and clamp scaffolding is known to be able to carry heavier loads, but that is at the cost of adding more tubes, clamps, and other types of component into the mixture. Frame scaffolding, on the other hand, would not need to have these additional tubes and clamps because of the fact that they can withstand heavy loads.
NOTE: Frame scaffolding is equipped and is capable of carrying loads by themselves.
Reduced Loss
Taking from the little components alone, it's not entirely impossible for a tube and clamp scaffolding structure to lose some of its parts and components, especially since they are tiny. Frame scaffolding's components are big and large – and mostly, they'll already be assembled and pre-fabricated.
This simply means that the rate of reduced parts and components will drastically be less with frame scaffolding. q
Costs and Expenses
When it comes to scaffolding proper, tube and clamp scaffolding would be less of an investment because the components for it are cheap. Frame scaffolding is going to be costlier and more expensive due to all the pre-fabricated materials involved.
However, if you look at it in the bigger picture, you'll have to spend on training workers for tube and clamp, you'll need extra hours for the assembly and erection, and of course, you need to send them to training for safety and security, whereas frame scaffolding is just a one-motion type of erection that does not need any of these trainings.
Overall, frame scaffolding is a better option that would be better for both your workers and the business.
What is Cross-Brace Scaffolding?
Cross-bracing scaffolding is a pretty self-explanatory type of structure. For the benefit of everyone, though, cross-bracing is a technique or a methodology where steel braces are crossed and joined in conjunction together to form the shape of an "X."
This brace is then added to a scaffolding structure in order to give more and better support and to minimize the risk of accidents, fall-outs, and potential damages.
How Do You Erect Frame Scaffolding?
The process of establishing or erecting frame scaffolding is not, in any way, difficult. Even beginner workers and personnel can assemble it pretty quickly.
So, here's a brief step-by-step generic guide on how standard frame scaffolding is erected and assembled:
Choose a location to which you'll be assembling or erecting your frame scaffolding.
Then, prepare the area by making sure no other components are present.
Once done, lay out the base plates on the location; avoid securing the base to the sills yet.
After that, make adjustments to the base nuts from the highest point going down to the ground level.
Then, place and install the second frame onto the base plate. This is when you secure a cross-brace to the second frame going down the first.
Then, install the decking or the platform.
You then have to select the correct equipment that would be specific for the guardrail system.
Next, you want to attach the guardrails to the posts.
Install the toe boards, as well as the stairs for the access.
This is the general technique of erecting or building up your scaffolding system. It's not as complicated as how you thought of it, right?
What to Consider in Purchasing Frame Scaffolding?
Before buying or renting scaffolding, you need to make sure that you have all the right components. Other than that, though, what else should you look for prior to securing your own frame scaffolding?
Compatibility
Most construction businesses would already have their initial scaffolding. Now, the question is, would the frame scaffolding you'll be purchasing be compatible with the current one you have? Not all scaffolding systems work well with one another, so, be sure to consider that FIRST.
Weight Capacities
The next thing to consider would be the weight capacity. Now, we know that frame scaffolding weight capacities don't fall far from one another, but what if the scaffolding you'll be purchasing is strong and is made to be resistant?
Check the overall capacity of what you'll be purchasing, too.
Price and Cost
This is self-explanatory. The cheaper and more affordable it is, the more you should buy it. Be mindful of super cheap rates, though, because not all cheap scaffolding systems are as reliable as those with hefty price tags.
If you're unsure, check it out with an engineer first to see if the overall scaffolding structure is up to the job.
Reliability
Last, of course, would be the reliability. If the structure is erected, would it be reliable enough? Could there be problems when you start accessing it? Reliability is among the most important factors when choosing your frame scaffolding, so, you better not miss out on this.
DISCLAIMER: We're not asking you follow this, we are just concerned by the overall matter of how you should choose your frame scaffolding system. You could have your own way of checking, and that's totally fine! You just might want to consider these because they can make or break not only your project, but your workers, too!
Total Contec is the Best Frame Scaffolding Supplier For You
One of our most popular and most-purchased (if not the most popular) products is our frame scaffolding system. For over a decade, we've worked in developing and maturing our frame scaffolds in order to provide the best and safest possible systems for our clients.
In our inventory, we can offer our clients options to get American, European, and Japanese assembly frames, each of which have their different pros and cons.
Depending on what you choose, we'll be deploying our most-skilled and most experienced engineers and members to work with you in achieving your goals.
Employed with some of the best and most experience people here at Total Contec, you'll definitely be able to get the results you're looking for – all without having to spend more than your allocated budget.
What Other Projects Can Total Contec Help You With?
Apart from frame scaffolding, our company is known in the industry to be the best and most reliable when it comes to aluminum towers, construction tools, ringlock scaffolding, cuplock scaffolding, shoring frames, and many more!
We're literally your all-in-one manufacturer to help you with all your construction needs!
Message us or contact us via our hotline and we will be more than happy to help you with all your construction and scaffolding needs!