Cuplock Standard
Tube diameter: 48.3mm, thickness: 3.2mm, Steel Grade: Q345, Surface treatment: Hot dip galvanized
Product
Length
Code
Description
Inches
Meters
CLS500
1 Cup standard w/spigot 1′-8″
19.69
0.5
CLS1000
2 Cup standard w/spigot 3′-3″
39.37
1.0
CLS1500
3 Cup standard w/spigot 4′-11″
59.06
1.5
CLS2000
4 Cup standard w/spigot 6′-6″
78.74
2.0
CLS2500
5 Cup standard w/spigot 8′-2″
98.43
2.5
CLS3000
6 Cup standard w/spigot 9′-10″
118.11
3.0

Cuplock Ledger
Tube diameter: 48.3mm, thickness: 3.2mm, Steel Grade: Q345, Surface treatment: Hot dip galvanized
Product
Length
Code
Description
Inches
Meters
CLL787
2′-7″ Ledger
31
0.787
CLL914
3′ Ledger
36
0.914
CLL1066
3′-6″ Ledger
42
1.066
CLL1219
4′ Ledger
48
1.219
CLL1524
5′ Ledger
60
1.524
CLL1828
6′ Ledger
72
1.828
CLL2133
7′ Ledger
84
2.133
CLL2438
8′ Ledger
96
2.438
CLL2743
9′ Ledger
108
2.743
CLL3048
10′ Ledger
120
3.048

Cuplock Diagonal Brace
Tube diameter: 48.3mm, thickness: 2.5mm, Steel Grade: Q235, Surface treatment: Hot dip galvanized
Product
Width
Length
code
description
Inches
Meters
Inches
Meters
CLDB2342
4′ Diagonal Brace
48
1.219
78.74
2
CLDB2514
5′ Diagonal Brace
60
1.524
78.74
2
CLDB2693
5′-11″ Diagonal Brace
71
1.803
78.74
2
CLDB2924
7′ Diagonal Brace
84
2.133
78.74
2
CLDB3153
8′ Diagonal Brace
96
2.438
78.74
2
CLDB3193
8′-2″ Diagonal Brace
98
2.489
78.74
2
CLDB3394
9′ Diagonal Brace
108
2.743
78.74
2
CLDB3645
10′ Diagonal Brace
120
3.048
78.74
2

Cuplock Truss
Tube diameter: 48.3mm, thickness: 3.2mm, Steel Grade: Q235, Surface treatment: Hot dip galvanized
Product
Length
Code
Description
Inches
Meters
CLT2133
7′ Truss
84
2.133
CLT2438
8′ Truss
96
2.438
CLT2743
9′ Truss
108
2.743
CLT3048
10′ Truss
120
3.048
CLT3658
12′ Truss
144
3.658
CLT4267
14′ Truss
168
4.267
CLT4877
16′ Truss
192
4.877
CLT5486
18′ Truss
216
5.486
CLT6096
20′ Truss
240
6.096
CLT6401
21′ Truss
252
6.401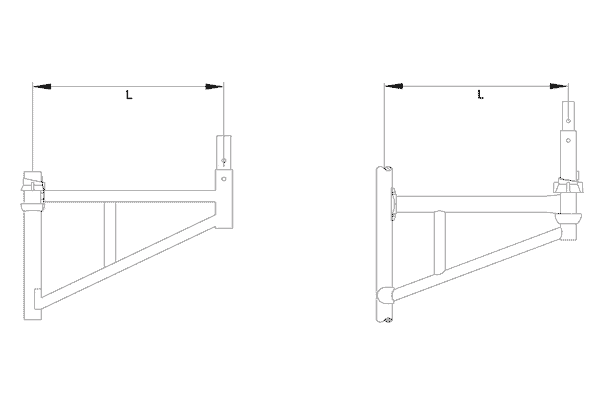 Cuplock Board Bracket
Tube diameter: 48.3mm, thickness: 3.2mm, Steel Grade: Q235, Surface treatment: Hot dip galvanized
Product
Length
Code
Description
Inches
Meters
CLBB360
One Board
11.4
0.29
CLBB390
Two Board
22.2
0.57
CLBB730
Three Board
31.3
0.8

Product
Length
Code
Description
Inches
Meters
CLTB914
3′ Transom Beam
36
0.914
CLTB1219
4′ Transom Beam
48
1.219
Cuplock Scaffolding Video
Cuplock Scaffolding – The Ultimate FAQ Guide
Cuplock scaffolding is one of the most prominent and used type of scaffolding systems in the industry. What it is might actually be something you're already doing – you might just not know what it's called!
Here at Total Contec, we're producing the best and highest quality of cuplock scaffolding systems businesses can possibly get. Other than the fact that we're considered as the best in the whole of China, we're also employed with the industry's best and most trusted engineers in the industry of scaffolding!
We'll get to that later!
For now, let us discuss this quick, but comprehensive FAQ guide so you know what to expect!
Understanding What the Cuplock Scaffolding System Is
From the term alone, "cuplock" scaffolding is a type of scaffolding system that utilizes cups and locks to join beams, standards, and other components of the scaffold together. Considered as one of the most flexible types of scaffolds, cuplock scaffolding is used in many different business sectors and industries worldwide.
Who Invented Cuplock Scaffolding?
The first-ever cuplock scaffolding structure is designed none other than Lyndon SGB, a European company that specializes in the manufacturing and production of galvanized steel.
Otherwise known as CUPLOK, the company made and innovated this structure in order to promote security and safety in all types of scaffolding systems.
What is the Working Principle of Cuplock Scaffolding?
The working principle of cuplock scaffolding utilizes node points that are steady, durable, and easy. Cuplock scaffolding only requires that the bottom part of the cup must be pre-installed and welded before the assembly – this is so that the top cup can easily be inserted and positioned into the horizontal ledger.
NOTE: Cuplocks scaffolding components traditionally use galvanized steel, strengthened steel, carbon steel, and even aluminium for selected purposes.
What Are the Standards In Cuplock Scaffolding?
Standards are the vertical pieces of steel that are used for the interlocking of all other components in the formula. Typically, cuplock scaffolding standards have 500mm intervals, as well as 150mm fixed Spigots.
Don't be confused when you come across the term "standards" in cuplock scaffolding – let alone, in any other type of scaffolding you'll encounter. Why? – Because these would refer to a component, not really standards.
Cuplock Scaffolding Features
You'll find a ton of different features when you decide to make use of cuplock scaffolding. These features include:
Easy to set up and erect
Strong, durable, and weather-resistant
Heavily customizable
Easy to repair and replace
And many more!
We'll discuss these more in the latter part of this guide – we don't want you to be spoiled on the good part just yet!
How Many Types of Scaffolding Are There?
Due to the continuous flow of demand for scaffolding systems, there actually are a few different types and classifications of scaffolding.
As per the Occupational Safety and Health Administration (OSHA), there are four (4) major types of scaffolding, these are:
Aerial Lifts
These are the scaffolds that are neither erected nor suspended onto a particular location. Instead, aerial lifts refer to any device that can be mounted using a vehicle for the purpose of elevating workers or personnel to perform the scaffolding.
You'll encounter different types of aerial lifts, the most common are:
Articulating Boom Platforms
Aerial Ladders
Vertical Towers
Extendable Boom Platforms
NOTE: There will also be instances where more than two (2) of these will be combined.
Supported Scaffolds
These scaffolds, on the contrary, are scaffolds that are produced and manufactured with support using a variety of components. Whatever components are needed to support the weight and the overall structure will be allowed.
The types of supported scaffolds include:
Frame Scaffolds
Ladder Jacks
Pump Jacks
Mast Climbers
Tube and Coupler
Specialty
Pole or Wood Pole
Suspended Scaffolds
Suspended scaffolding is a type of scaffolding system  where the platforms are neither supported nor clamped onto a "flat" surface. From the term alone, this category of scaffolding system means that the platform is "suspended."
The suspension could be anything that is stable and that wouldn't just fall off. Commonly, suspended scaffolding categories include:
Single-Point Adjustable
Two-Point Adjustable (Swing Stage)
Needle Beam
Interior Hung
Multi-Level
Float
Catenary
Scissor Lifts
Last but most definitely not least are scissor lifts. This is the newest type of scaffolding and it is similar to aerial lifts, but they're not the same, hence their difference in categorization.
The lifting mechanism of scissor lifts transports the platform straight up and down via crossed beams that work like "scissors."
These are the four (4) primary types of scaffolding.
What Are the Parts of a Cuplock Scaffolding System?
Not all scaffolding companies agree about the parts and components of a cuplock scaffold. However, the components that are considered to be common across all businesses are the following:
Standard (Vertical Brace)
These are the vertical components that run across the entire scaffold. In simpler terms, standards are like the structure or the framework of cuplock scaffolding. Without standards, the entire scaffolding system wouldn't stand straight.
In a cuplock scaffolding system, the standards usually have readied cups where horizontal braces and/or ledgers are to be mounted and attached.
Ledger (Horizontal Brace)
Ledgers are the horizontal braces connected to the standards. They're the components responsible for the connecting and linking of the vertical braces together.
Horizontal braces work hand-in-hand with vertical braces in order for them to work.
Diagonal Brace
Many experts believe that a diagonal brace is not needed, but it's actually something that can serve as extra support to both standards and ledgers.
Oftentimes, they run across two (2) different levels and heights.
Base Jack
Base jacks are known and considered to be the foundation of an entire scaffolding system. It is the bottom-most part of a scaffold.
Cups
Cups are like the primary components of a cuplock scaffold. In all cuplock scaffolding systems, there are three (3) types of cups, they are:
Bottom Cup
Top Cup
Blade (Separator)
Platform (Catwalk)
The platform (catwalk, as known by some) is the component that's responsible for the safety and functionality of the entire scaffolding system. It's the area of the scaffolding system that's accessed by people.
Staircase
Lastly, the staircase. Obviously, this is the part or the component that workers and personnel  use in order to climb up and access the platform to perform their work.
NOTE: There are other parts and components. Remember that these components are the only ones that are verified and checked to be part of even other types of scaffolding systems or those that are recognized as correct globally.
How Do You Erect a Cuplock Scaffolding System?
Erecting or building up a cuplock scaffolding system isn't far from how you do it with Kwikstage, or any other scaffolding type. In fact, when you see and check its different parts, it will be pretty self-explanatory.
For the benefit of everyone, though, here is the process on how to properly erect and build up a cuplock scaffolding system.
Step #1: Building the Foundation
The first step, of course, is to build the foundation of the scaffolding system. This is done by assembling the base jack along with casters and braces to create the first layer.
Once done, ledgers are installed and attached to the scaffold in order to add support.
Step #2: Assembling the First Layer
Then, the next step would be by assembling the first layer of the scaffolding system. You'll know that the first layer is finished when you've finalized the foundation and if it doesn't move or sway when minor forces are applied.
Once done, install the catwalk or the platform by attaching it to the cup of the second standard or at the top of the first layer.
NOTE: The place or the port of where you attach the next standard, that's where the catwalk should be placed and positioned.
Step #3: Providing Support
Once that's done, the next step is to provide support by adding both horizontal (ledgers) braces and diagonal braces that are necessary.
While not all standard + ledger combinations don't require diagonal braces, it's imperative that you attach diagonal braces to all layers and levels of your scaffolding system. This is to make sure that everything, including the foundation is not wobbly or is not risky to enter.
Step #4: Assessment and Assembling of the Second Layer
By now, the second layer or the catwalk area should be finished. It should be inspected and tested before adding the third or the next layer.
You can test this by:
Checking if it's able to carry heavy weight
Seeing if it wouldn't wobble and move
Ensuring that the standards are properly set to the cups
Step #5: Continuation of the Assembly
Of course, the last step would be the continuity of the overall scaffold. The height of the total structure will depend on the kind and type of project you will need for it.
NOTE: This process is not done by all companies 100% of the time. There are certain variations, added steps or removed steps depending on the type of cuplock scaffolding they're offering. This is simply a simplified generic guide of how it works.
Is a Cuplock Scaffolding System Easy to Erect?
Yes, cuplock scaffolding is a system that's been designed for simple and easy erection, while being resistant to weather, damage, corrosion, and wear. As you can see in the process above, erecting or structuring a cuplock scaffold, especially if there'll be more than five (5) workers wouldn't take you a long time.
Is a Cuplock Scaffolding System Easy to Loosen?
Many of you might think that because of the fact that it's easy to erect, it means, it's easy to loosen too, right? Bu no, that's not the case. Generally speaking, though, cuplock scaffolding systems are extremely durable, meaning, they won't loosen up easily even if the forces and gushes of wind are strong.
NOTE: They're so strong and durable that they wouldn't even sway easily when met with strong winds!
Are Bamboo Scaffolds Still Used Today?
Yes, they're still being used but only in a few selected countries – Hong Kong and China, to be precise. The reason why they still use it is because of how strong, flexible, versatile, and durable bamboo is compared to traditional wood.
Hong Kong was able to build multiple types of establishments with their bamboo scaffolds, and that is why they still continue using it up to this day.
Pros of Cuplock Scaffolding
Cuplock scaffolding has many benefits, features, and advantages. The most common of these are:
Easy to Work on and Transport
Unlike prefabricated framework scaffolding systems, the parts and components of cuplock scaffolding systems are easy to transport and to move from one place to another. Since most are made from carbon steel and aluminium, they are expected to be lightweight. Therefore, you shouldn't experience problems when you are transferring/transporting it.
Safety and Security
One of the things cuplock scaffolding takes pride on is its property of being safe and secure. It can highly assure companies that the overall posture and height of the scaffold will be reliable.
Reduced Efforts
They are flexible and can overall reduce the efforts made by people because of how lightweight and versatile the materials and the equipment are. No need to drill, cut, saw, or even add because all components would be pre-made and will be ready for assembly.
Low Maintenance
Adding, removing, or adjusting the components wouldn't give you a hard time simply because of the fact that they are manufactured with accuracy and precision. This is also what makes it an entirely cost-effective solution to scaffolding, too.
Standardization
All components of cuplock scaffolding systems are made with reasonable dimensions and measurements. They're up to the standards set by the OSHA and shall always be that way.
Stability
I don't know if you noticed, but for cuplock scaffolding, you don't need nuts, bolts, and screws. And in case you're wondering, no, it's not "unsafe." In fact, they're actually rated as one of the safest and most secure (if not the safest) out of all the different types and categories of modular scaffolding.
Strength and Versatility
Of course, lastly, would be the strength and overall versatility of cuplock scaffolds. They're strong in the sense that they would not easily break as they are not all interconnected. If a layer breaks, then the next layer wouldn't automatically break, too. They are connected and linked, but they stand independently from one another.
Are There Disadvantages to Cuplock Scaffolding?
On the other side of the spectrum, what cons and disadvantages are there to cuplock scaffolding? Honestly, not that many.
Cuplock scaffolding has been erected and developed in order to be sustainable and highly efficient when it comes to doing their job. The only drawback I can think of is the fact that they're costlier and more expensive than traditional scaffolding.
Apart from that, we see no other disadvantage to cuplock scaffolding. The large space requirement for the foundation is already a given for all supported scaffolding types, so, that should always be part of the first considerations.
Where Can You Get the Best Cuplock Scaffolding?
For the best and highest quality of scaffolding, you can place your complete trust in us here at Total Contec. 12+ years in the scaffolding sector, we've been trusted by hundreds of contractors, construction companies, and organizations worldwide.
Our cuplock scaffolding systems are imbued with exceptional quality, highly-effective components, and reinforced material for better, stronger, and much more durable stature.
We here at Total Contec will make sure that you get what you're paying for, and that everything is kept safe and secure!
Other than our cuplock scaffolding, you can also count on us if you need help with aluminium scaffold, HAKI scaffolding, Kwikstsage scaffolding, and many more!
Reach out to us and we'll send over a free quotation your way!